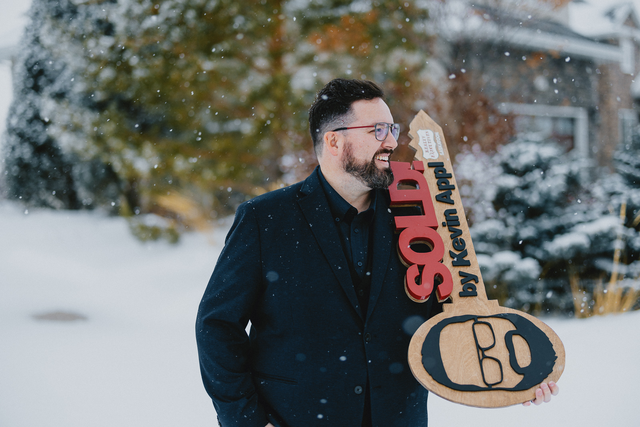 Thinking of selling your home in Saskatoon?
Getting Top Dollar For Your Home Starts Here.
So, you are considering selling you property. Is this your first time selling? Or, are you a seasoned pro at house flipping? There are so many variables to discuss. Are you planning to sell this property, pull equity and use it towards the next house? Maybe you have an estate to deal with and this is the next step for your family. Either way, selling in this market requires attention to detail, great communication, preparation and the right marketing strategy. It seems to be changing almost on a weekly basis.
It's my absolute goal to provide you with the best customer service no matter the situation. Real estate is not only a place to call home, but also a tool that should be used to build generational wealth. My focus is on the long term success of your family and helping in any way that I can through assisting you with buying and selling real estate.
There are many reasons why you might decide to sell your house. Here are some of the most common reasons:
Relocation: If you are moving to a new city, province or country for work or personal reasons, you may need to sell your current home to finance your move or avoid having to manage a long-distance rental.
Upsizing or downsizing: If your family is growing or shrinking, you may need to sell your current home and move to a larger or smaller one to accommodate your changing needs.
Financial reasons: Selling your home can be a good way to raise cash for a major expense such as paying off debt, funding your retirement or investing in a new business.
Changes in the neighbourhood: If your neighbourhood has changed in a way that no longer suits you, such as increased traffic or noise, or the arrival of an unwelcome new development, you may decide to sell and move to a more desirable location.
Home improvement needs: If your current home requires extensive repairs or renovations that you cannot afford, you may choose to sell and move to a more affordable or updated property.
Personal relationships: Divorce, marriage, or a death in the family can all be reasons to sell a home and make a fresh start.
Investment opportunities: If you are a real estate investor, you may sell your property to take advantage of a new opportunity or to cash in on a profitable investment.
Ultimately, the decision to sell a house is a personal one that depends on many factors, including your financial situation, lifestyle, and personal preferences.
Selling a home is more than just a transaction; it's an empowering journey that carries you into the future, providing financial success and the opportunity for personal growth along the way. As you consider listing your property in Saskatoon, remember that this momentous decision is not only about financial gain but also about embracing the next chapter in life. Let's explore the various aspects of selling your home, the benefits of partnering with a skilled Realtor, and the exciting opportunities that await as you progress towards your goals.
One of the main motivations for selling a home is to secure financial gain. Whether it's a house, condos, or townhouses for sale in Saskatoon that you are offering, each property holds unique value and potential for profit. Listing your home enables you to take control of your financial future and opens the door to new investment opportunities.
Using those newly acquired funds and investing in a new property can provide steady cash flow through rental income or appreciation in value over time. Additionally, the capital gained from selling your existing home can be used to pay off debts or build a robust financial portfolio. By recognizing the potential of your property and seizing the opportunity to capitalize on it, you become an active participant in your financial journey and educate yourself into make well-informed decisions.
Selling a home often signifies an exciting transition in life too! Whether you're moving to a new city, downsizing, or upgrading to a larger living space, each step represents a new chapter in your personal story. Deciding to sell your property can be both exhilarating and challenging, as it requires embracing change and a little bit of the unknown.
In Saskatoon, our housing market offers a variety of options to suit your preferences and needs, from single-family homes, condos to townhouses. As you explore the various homes for sale in Saskatoon, remember that change is an essential part of growth and personal development. By taking this leap, you're actively choosing to embrace the future and all the exciting opportunities that lie ahead.
When selling your house, partnering with a skilled Realtor can maximize the benefits and enhance the overall experience. A knowledgeable Realtor understands the intricacies of the housing market and can help you navigate the diverse options when outlining the competition or comparable condos for sale in your neighbourhood in Saskatoon as an example . They can provide valuable insights, negotiate the best possible deal for your property, and ensure a smooth selling process. It's extremely important to see the comparable houses or townhouses that are currently for sale in Saskatoon as well too! Best to know your competition. Keep in mind that you need to sift thru all the potentially non-applicable condos for sale that aren't in the same neighbourhood, or even the same side of the river in Saskatoon.
Realtor's use accurate data and related houses that have sold, never what's currently for sale on the market and even worse yet – it's pretty inaccurate to compare a townhouse that's for sale on the West side of Saskatoon vs a 2 story house listed for sale that's been on the market for months due to the price being too high.
Furthermore, a skilled Realtor can assist you in marketing your home effectively, drawing in potential buyers and showcasing your property's unique features. This not only increases the chances of a successful sale but also empowers you with the confidence and peace of mind that comes from working with a trusted professional.
As you prepare to list your property among the many houses for sale in Saskatoon and area, remember that the journey doesn't end once the property is sold. The decision to sell your home sets in motion a series of events that pave the way for the next phase of life.
Selling a home is an exciting experience that offers potential financial gain, personal growth, and the chance to embrace the future. As you consider listing your property among the many homes, condos, or townhouses for sale in Saskatoon, keep in mind the opportunities that await on the other side. From investing in new properties to moving on to the next phase of life, the decision to sell your home is a transformative experience